Spring Newsletter 2014
Spring Newsletter 2014
2013 was an extremely busy year for Direct Ecology Ltd; one which saw us working on a range of projects from major national developments like the Forth Replacement Crossing to small projects for private clients. We enjoyed continuing working with a number of existing clients, as well as adding new customers to our client base. Some of the highlights of our 2013 projects are detailed below.
Looking Forward
Continuing on from our 2013 success, we are already busy in 2014 working with existing and new clients. We have for example a number of Ecological Clerk of Works roles, surveys for a range of hydro scheme developments, bat surveys and are starting work on the M8/M73/M74 project. Work on one of our hydro site includes the supervision of reptile mitigation works at a hydro scheme near Loch Lomond. We have continued work with our client at the Forth Replacement Crossing, undertaking Marine Mammal Observation surveys at Port Edgar during piling works. Marine Mammal Observation (MMO) is a discipline recently added to our portfolio, and we look forward to adding more MMO work throughout 2014.
If you have any project requirements for 2014 please contact us and we will be happy to provide you with a fee proposal for the work. For full details of the services that we can offer please visit our website at www.directecology.co.uk.
Forth Replacement Crossing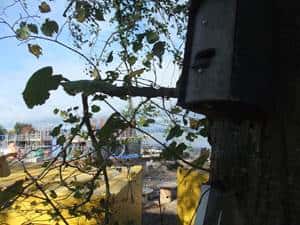 We are pleased to have been working on the Forth Bridge Crossing for Ramboll UK Ltd on one of the biggest construction projects to be undertaken in Scotland for a generation. We have been involved with bat survey work on the project since 2010 including tree climbing, assisting with EPS bat licence applications and bat monitoring work and continue to assist in this capacity as the project continues.
Cambusmore Quarry, Callander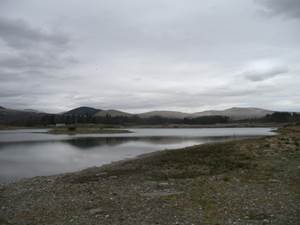 We have been working with Cemex UK at their active quarry site at Cambusmore, near Callander. We have undertaken a full suite of ecological survey on the site including for breeding birds, otters, amphibians, reptiles and bats to compile a detailed Environmental Statement for the quarry licence and renewal and potential extension and to provide recommendations for habitat restoration on the site.
Wind Farm Sites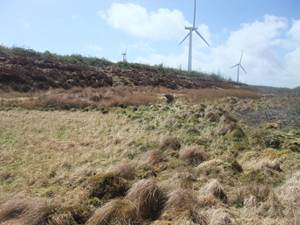 We surveyed and provided reports for a number of proposed wind farm development sites last year for a variety of clients throughout Scotland. We can provide a full suite of ecological surveys for windfarms sites for ecology and ornithology. One of our particular areas of specialism is with bat survey and we are experts at undertaking survey and providing recommendations. This has included providing specific advice to assist projects that have high risk species such as Nyctalus bats (noctule and Leisler's bats) to assist the project through the planning process. We have a full range of survey kit to enable us to undertake bat surveys including for walked and driven transects and at height and ground level static monitoring.
Stirling University Residencies Project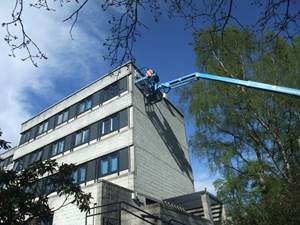 A significant Halls of Residence renovation project is underway at the University, and we have been working for Faithful and Gould to assist in the smooth running of the construction to ensure that ecological issues do not affect the project timescales. As well as providing ecological services to assist with obtaining BREEAM credits, we have undertaken licensed bat exclusion and mitigation works. We worked to tight timescales to exclude a large soprano pipistrelle roost, ensuring that there were no delays to the building demolition works.
Allt da Ghob Hydo Power Scheme, Glen Lyon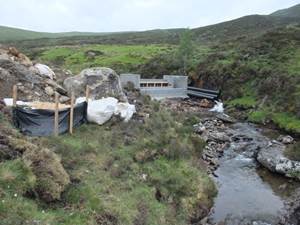 We were appointed Ecological Clerk of Works on this now nearly completed hydro scheme in 2013. This is the 5th scheme in the Glen where we have performed this role. We undertook pre-construction surveys for protected species, including otter surveys for licensing purposes. We also carried out freshwater pearl mussel surveys for monitoring purposes on behalf of the client. We have been working closely with the client and contractors throughout the duration of the works to provide advice on best practice working methods, including silt mitigation and site restoration.
South Lanarkshire Schools Modernisation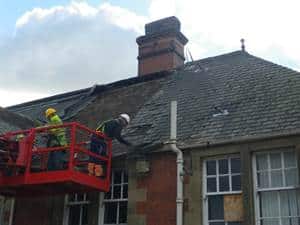 Direct Ecology has undertaken ecology survey and assessment for a number of school redevelopment projects. This has included working for one of our major clients Morgan Sindall plc on the South Lanarkshire Schools Modernisation Project, where we have undertaken ecological survey and assessment on nine primary school sites. Where bat roosts have been present, we have assisted the client with obtaining the appropriate licences, and recommended mitigation measures. We are experienced in supervising demolition works, and providing tool box talks to contractors, to ensure compliance with licence conditions. We also regularly work on schools and other public buildings for Clackmannanshire, Fife, Perth and Kinross and Argyll and Bute Councils.
Working With Rare Bats in Dumfries and Galloway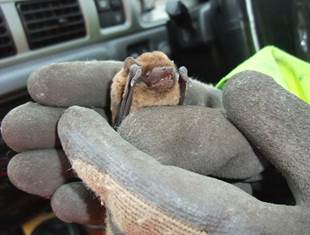 Direct Ecology Ltd undertakes regular bat survey work for Forestry Commission Scotland (FCS). In 2013 we assisted with licensed survey, demolition and renovation works on a number of properties. We supervised demolition of a number of buildings, ensuring compliance with licence conditions. In a property in the Galloway Forest Park we confirmed the presence of the only known Brandt's bat roost in Scotland. DNA analysis of the droppings confirmed the species. We were also involved in designing a bat house that has been built for roosting Leisler's bats (pictured). To date in 2014 we have surveyed 20 buildings for FCS throughout Scotland.
New Staff in 2013/14
Direct Ecology recruited two new staff members in 2013 and have recently added another in April 2014.
Gwen Dean joined Direct Ecology Ltd in February 2013, having had 3 years prior experience working within the ecological consultancy sector. Gwen has significant experience carrying out a range of habitat assessments and protected species surveys. She holds a Scottish National Heritage licence for bats and great crested newts. She is also a qualified tree climber and is certified to carry out surveys within confined spaces using escape breathing apparatus.
Eilidh McNab joined the team in April 2013. She is a licensed bat surveyor and also specialises in other protected mammal surveys and ornithology. She is a Scottish Badgers registered Level 1 Badger Worker. She recently completed a JNCC accepted Marine Mammal Observer (MMO) training course. She is an experienced field surveyor, and has previously undertaken bird vantage point surveys for ecological consultancy. This adds to our overall ornithological expertise and we now have a team of four staff who can undertake vantage point surveys, species specific surveys, and associated reporting and collision modelling.
Kristi Leyden joined Direct Ecology in April 2014, having previously worked in various ecological roles including as Assistant Ecologist for Botanical Environmental Conservation Consultants in Ireland, Research Assistant for The James Hutton Institute, University College Cork, and University College Dublin, and as a Marine Biologist for Sherkin Island Marine Station. Kristi has experience in habitat and botanical surveying, she has contributed to several national botanical surveys in Ireland and also has a keen interest in mammals, birds, and herpetofauna.
Copyright © 2014 Direct Ecology Ltd, All rights reserved.
Our address is:
4 Beech Court,
Beech Road,
Dunblane
FK15 0LA
Tel 01786 826865
www.directecology.co.uk